| | |
| --- | --- |
| | |
Treasure Island
Treasure Island is located at a place 16 km from the city, it is just a short drive away. All you have to do is get there - and make any day seek like the perfect vacation.
At Treasure Island you'll embark on a journey of discovery and enjoy week long vacations as none other, Where a pleasant surprise awaits you at every corner. There's an elfin quality about the landscape - lush green trees, wide open spaces. And humble cottages that speak of the simple joys of holidaying. Located at Gandipet, this ideal vacation spot beckons you. And allows you to rediscover the beauty of spending time gracefully.
Azure Pools and blue lagoons
As you allow the place to weave its magic around you, there's something else that you will realise - a quiet, untouched beauty exists everywhere. You'll visualize long poolside nights. Sparkling blue waters with the soft voice of nature for company. And life will begin to take on a new meaning.
Cozy cottages and Pretty landscapes
As you relax in the keith and bamboo cottages, the charming simplicity of everything around, overwhelms you. Over 30 cottages, designed to make living a pleasure - simple, tasteful and comfortable, these dwellings will unlock the gates of your imagination. And romping over 60 acres of natural landscape you will, at long last, arrive at the definition of a perfect holiday.
Camel rides, Go-kart racing, long poolside evenings
Here, days are counted not in hours. But by the number of priceless moments spent. Whether its watching the unadulterated joy on your childs face as he goes camel riding. Or cruising in go-karts. Splashing in the sparkling blue waters of the pool. Or in the Jacuzzi - you're on one unending adventure.
Hot air ballooning, Moto-crossing, Wind surfing
The great outdoors beckons and you respond eagerly. As you look down at our beautiful world from a hot-air balloon, your perception of life takes on a whole new meaning. Your soul unfurls as you travel over meadows, hills and valleys on a dirt bike, absolutely happy and free. Your heart beats to the rhythm and excitement of the wind - just you and your surf board.
Tandoori nights. Romantic lakeside parties. Barbecue bashes, Dragon attacks
And the joys of eating a well cooked meal. Palate tickling dishes - whether you are diving into a plateful of noodles Enjoying the robust, spicy tandoori dishes. Or allowing the unique flavour of a barbecue flatter your tastebuds. Its easy to give yourself up to the magic of this exclusive world.
Robber's Roost. Pulsating disco nights, Concert nights
Blood pounding through the veins. Adrenalin in full-flow. As the clash of cymbals, steaming guitar duels and a persistent foot, stompin' beat electrify the night with a vigour and life all its own. Relive the glory of being alive - at Robber's Roost. Or simply let the pulsating energy of concert nights transport you to another WORLD.
Treasure Island
Nestling in a quiet corner of Hyderabad is a vacation paradise. Treasure Island -The ideal getaway you've always dreamt of.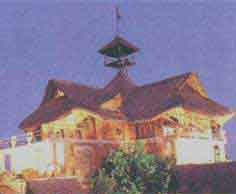 Hyderabad Places
Monuments
SiteSeeing
Parks
Worshipping Places
Recreation Places