| | |
| --- | --- |
| | |
Deer Park
Once the Nizam's Shikargarh or hunting grounds, the Mahavir Harina Vanasthali National Park, on the outskirts of Hyderabad, is today home for a few hundred black buck along with several species of birds. The deer park, has an undulating terrain, of 189 hectares dominated by acacia trees. The park looks picturesque in the monsoon with the golden and white flowers of these trees on the lush green carpet of grass.
Antelope and the beautiful black bucks, which once inhabited the grasslands and plains throughout India, are an endangered species now. Their main predator was the now extinct cheetah. Their glossy white dotted bodies, ranging from dark brown to black, accentuated by a white underbelly, their large lustrous eyes and mouth surrounded by white, are a study in contrast.
What makes the black buck the most handsome of all its kind is the spiralled horns which have cork-screw like turns which give them a majestic look. Their horns are permanent unlike those of deer which are shed seasonally. The doe is pale brown with yellowish underparts. The beautiful black buck, known as Krishna Jinka in Telugu, was declared the state animal of Andhra Pradesh.
Mahaveer Harina Vanasthali National Park provides the black buck its much needed safe haven to exist. It is also home to a hundred species of birds, and pond herons, egrets, kingfishers, cormorants can be sighted almost always. More lucky ones can even watch black bucks, literally locking horns in a duel for a score of beautiful does.
There is no entry fee. Except on Mondays the park is open every day of the week for visitors from 9.a.m. to 5 p.m.
A nominal fee of Rs 5/- is charged to go round the park in the vehicle run by forest department.
Deer Park
Located in Vanasthali-puram, about 15 kilometers from the center of the town, It is maintained by the Forest Department and is not a part of city-town.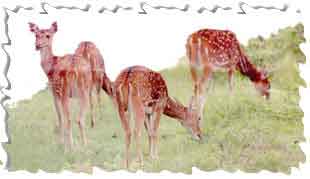 Hyderabad Places
Monuments
SiteSeeing
Parks
Worshipping Places
Recreation Places