Secret Lake - Durgam Cheruvu
Belonging to much older times is one such beautiful location- Durgam Cheruvu (Secret Lake).. Brinking on the posh terrain of Jubilee Hills, the Lake is endowed with rich scenic beauty and is set amid hillocks that rise majestically on either side.
The shields of granite rocks around here are said to be only one of its kind in entire Asia that date back to more than 2,500 million years and attract nature and rock lovers from all over. The Lake has been developed as a major tourist attraction in the Hyderabad city by the AP Tourism Department. The Department has provided pedal boating, camping and trekking facilities. A cafeteria and refreshment center are also located on the banks of the Lake.
Secret Lake
Once a drinking water source to the Golconda Fort, the Durgam Cheruvu is popularly called as the Madhapur Lake.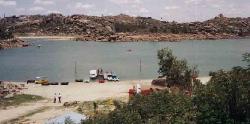 Hyderabad Places
Monuments
SiteSeeing
Parks
Worshipping Places
Recreation Places