| | |
| --- | --- |
| | |
Lumbini Park
A beautiful landscaped park on the banks of the placid Hussain Sagar lake is the Lumbini Park.The Lumbini park is a part of the Buddha Poornima project. It is located a few yards from the monolithic Buddha statue on the Rock of Gibraltar in the Hussain Sagar. The park has been named after the garden that was the birth place of Siddharth, the later day Buddha.
The Lumbini park is surrounded by the state Secretariat, the tranquility of the Hussain Sagar lake and the exotic Birla Mandir standing majestically atop a hillock.
The Lumbini is a finely landscaped park with patches of lush greenery here and there. Aesthetically decorated with seasonal flowering plants, rocks, pebbles and cacti, it has for good measure large trees which provide good shade and neatly laid path ways for strollers.
At the main entrance of the park, a large floral clock allures the visitors. The clock is rich with brightly colored flowers of different shades.The park offers a lot of entertainment for children. Scores of little kids can be seen around the swings and slides. The park is also provided with a foyer for waiting passengers who wish to enjoy a boat ride in the Hussain Sagar. Boat riders can have a wonderful view of the giant monolithic Buddha in granite and also the sculptured life story of the "Prince of Peace".
The highlight of the Lumbini park is the spectacular Musical dancing fountain and water cascading provided with colorful lights. Every evening at 6.30 p.m. and 8 p.m. Musical Fountain shows enthrall the visitors. The fountains dance to the tunes of popular numbers from Hindi and Telugu fim songs. The Lumbini park comes alive in all its splendor at night with glowing sodium vapor lamps and the kiss of the cool breeze !
The Lumbini park is open throughout the week from Tuesday to Sunday except on Mondays. From 9 a.m. to 9 p.m. the park is crowded with visitors and picnickers. Many vendors sell lip smacking eats and drinks to satisfy the epicureans.
The Lumbini park is maintained by the Hyderabad Urban Development Authority (HUDA). Very recently the Lumbini Park was adjudged as the best maintained public park in the twin cities.
Lumbini Park
An ideal meeting place for young lovers, evening strollers and fun loving children, Lumbini park offers a lot of amusement.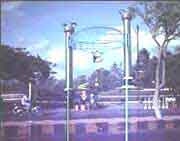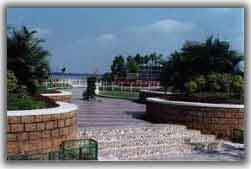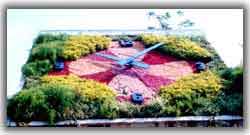 Hyderabad Places
Monuments
SiteSeeing
Parks
Worshipping Places
Recreation Places