| | |
| --- | --- |
| | |
Shamirpet
Almost 27 kms from Secunderabad is one of the popular picnic spots - Shamirpet, which attracts visitors looking for an outing of their own.
Shamirpet is known for its artificial lake which was dug almost 50 years ago by a Jagirdar of that area. The Jawahar lake is solely rain-fed. The lake has a small bund or dam with a few flood gates. At the beginning of the bund is a small temple of the local deity Katta Maisamma. Many such temples are seen in the Telangana regions. "Katta" means bridge and this deity is believed to protect travellers on the bridge. Motorists who pass over this bridge, often halt at the temple to offer prayer to the deity.
A large pond lies next to the temple. It is recalled that during the Nizam's time, Shamirpet had a beautifully laid garden around this pond. It was also home for a variety of colorful birds.
Shamirpet as of now presents a picture of thick vegetation very pleasing to the eyes. A thin stream flowing over a bed of huge rocks is an added attraction.
On weekends and holidays, Shamirpet provides a contrasting scene with large gatherings of families. The otherwise peaceful Shamirpet echoes with voices of boisterous youngsters and kids having their own fun time.
Since there is no cafeteria in and around Shamirpet, most families carry food, water and other drinks. There are a few others who like to adventure with cooking in the garden.
While most visitors are the usual picnickers, there are some unconventional visitors too! Patients from the Mediciti hospital are brought to Shamirpet for a change - to breathe fresh air and relax in a serene atmosphere. Relatives or friends visiting the patients also drop in at Shamirpet to spend a few quiet moments beside the lake. This way they make their trip purposeful.
Unlike some picnic spots where facilities like hotels, cafes, entertainment for children are available, Shamirpet is rich in scenic beauty and surroundings. The number of visitors at Shamirpet speaks for the place being a favorite picnic spot.
Guest houses/cottages with a restaurant have come up in the vicinity now. They will be open to tourists shortly. There is also a deer park beside the lake resort run by the Forest Department which is open to visitors from 9 a.m. to 5 p.m.
Shamirpet
For people who are in love with solitude and unadulterated environment, Shamirpet is the ideal picnic spot!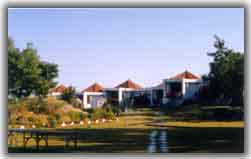 Hyderabad Places
Monuments
SiteSeeing
Parks
Worshipping Places
Recreation Places