| | |
| --- | --- |
| | |
Kesaragutta
Just 30 km from the city of Hyderabad near village Keesara is a long ridge of granite topped with bare, stony knobs and domes of rock. Annually for the "Sivaratri" festival, thousands of people make a visit.
Many come from far off places, often in the traditional bullock cart. The entire family perches on the cart, and in the few days on the move, the carts double as tents by the roadside much like the trade caravans of ancient days.
One day while digging for the foundations for a government guest house the workers found huge bricks. Keesara was much more important than a pilgrim spot. Way back in the second century A.D. a line of kings called the Vishnukundins ruled in the area. Archeologists have come to the tentative conclusion that this place was a Ghatika , a sort of college of the 3rd C. A.D.
At the time, puranic Hinduism was just getting popular by absorbing incredibly ancient tribal myths and rituals, while Buddhism and Jainism held sway.The rulers usually professed Vedic rituals, while the educated persons were attracted to reformist movements like Jainism and Buddhism. The common man professed ancient tribal practices and cults - which over the centuries were absorbed into Hinduism .
The present day shrine of Siva called the Ramalingesvara temple is simple and recently repaired. Beside are ruined shrines of the 5th century A.D. of northern Gupta design.
During Sivaratri, long lines of people stand in queues to enter the main temple.
Several people perform pujas at one of the huge lingams all over the place. At the foot of the hill a carnival atmosphere prevails. Bright lights in the pitch dark moonless night livens up the scene. Apart from the platforms where traditional dances are performed, wandering singers and minstrels give impromptu displays. ( some of them hold good city based jobs but insist they should perform in the old way at least on Sivaratri).
From the top there is a good view. Far, far down below, shepherds and their flocks scurry across the countryside.The old route to Keesara climbs up the smooth bald rock, with steps cut into the stone.
Kesaragutta
All over and around the rocky granite dome of Keesara, there are meter - high stone lingas. The linga or the phallic symbol is an ancient abstract symbol of life and fertility.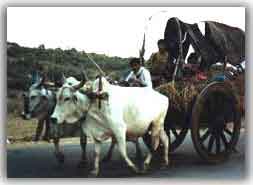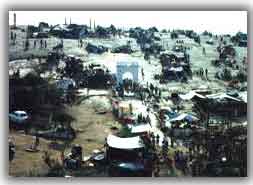 Hyderabad Places
Monuments
SiteSeeing
Parks
Worshipping Places
Recreation Places