| | |
| --- | --- |
| | |
QUTB SHAHI TOMBS
A cluster of magnificent tombs erected in memory of the departed kings of Golconda, stand mutely twelve kilometers from Hyderabad. These tombs are situated a kilometer north of Golconda Fort's Banjara Darwaza. The tombs form a large, close group built on a raised platform. Perhaps no where in the world will we find so many tombs as monuments in one place as here.
These tombs are built in a unique architectural style which is a mixture of Persian, Pathan and Hindu forms. The material used was grey granite, embellished with stucco ornamentation.
Each tomb stands on a wide quadrangular terrace approached on all sides by flights of steps. The surrounding arcades and painted arches enhance the beauty of the monuments. The main body of the edifice is broad, rising 9 to 15 meters above the terrace. It is surrounded by balustrades with beautiful minarets at the corners.
There are the tombs of the six Qutb Shahi Kings. Noteworthy among these is the tomb of the fifth king of the Qutb Shahi dynasty and founder of Hyderabad - Mohammed Quli Qutb Shah.
Rising to a height of 42.5 meters with a large dome and 28 open arches, his tomb is one of the largest and most imposing of monuments.
All the tombs are surrounded by sprawling greenery. Except on Fridays, the Qutb Shahi tombs are open for visitors from 9.30 am to 4.30 pm every day of the week.
The imposing marvels of architectural excellence have stood the test of time and vagaries of nature. These tombs stand as silent reminders of the grandeur and glory of the Golconda Kings.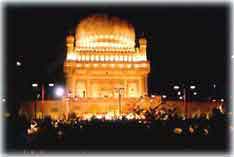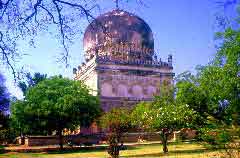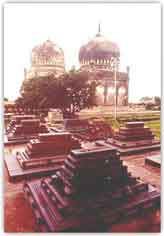 Hyderabad Places
Monuments
SiteSeeing
Parks
Worshipping Places
Recreation Places