| | |
| --- | --- |
| | |
Birla Temple
Hyderabad reflects a synthesis of varied cultures. It presents a beautiful blend of the northern and southern styles of architecture. One such marvellous edifice is the Birla Mandir. An enchanting temple dedicated to Lord Venkateswara, the Birla Mandir stands in all its grandeur on the hilltop of Kalapahad. Made of pure white marble from Rajasthan, the Birla Mandir overlooks the serene and placid waters of the Hussain Sagar lake.
The magnificent shrine offers a fantastic panoramic view of the twin cities of Hyderabad and Secunderabad. The intricate carvings of the temple, the ceiling and the mythological figures are a standing testimony to the dexterity and sculptural excellence of the craftsmen. Beautiful scenes from the great epics of Ramayana and Mahabharata are finely sculpted in marble.
A number of lofty steps lead the visitor to the sanctum sanctorum. Along the winding path are many a marble statue of gods and goddesses of Hindu mythology located in the midst of verdent gardens, full of blossoms.
The Birla Mandir presents a colorful spectacular sight when illuminated at night. The temple is open for visitors from 7 a.m. to 12 noon and 3 p.m. to 9 p.m. all days of the week.
Birla Mandir
A trip to Hyderabad remains incomplete without a visit to the enchanting Birla Mandir !!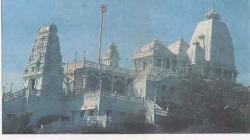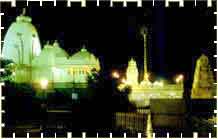 Hyderabad Places
Monuments
SiteSeeing
Parks
Worshipping Places
Recreation Places