| | |
| --- | --- |
| | |
To keep the arts alive to help the crafts thrive and to make the waning cultures active, and in a drive to bring age old skills and centuries old traditions close to today's urban world, Shilparamam - a Crafts Village was set up close to Hyderabad. Set in Madhapur 14 km off the city, a midst picturesque rock formations that are unique for the region, Shilparamam brings together craftspersons and artists of every ilk
From rustic architectural simplicity to people specific hospitality, the Crafts Village has captured the very essence of a typical Southern Rural habitat. This is a home to thousands of visiting artisians, a temple to thousands of performing artistes and a breath of fresh air to lakhs of art and craft lovers.
The Ambience
With Craftsmen who chisel beauty on wood, carve wonders on stone, design beauty in mental, potters who spin marvel on the wheel and weavers who knit magic in fabric, the ambience here is that of a traditional rural habitat. With vast expanses of lush greenery, cascading waterfalls meandering through mini-valleys blended with folk rhythms and rustic dance forms, Shilparamam looks like a heaven seemingly designed for the noble purpose of bringing alive a heritage of reativity and vanishing crafts styles.
It is a near 50 acre landscape with contours that have been etched into a mini lake here, a cluster of trees there, a stretch grass here and ethnic cottages there. While some of the cottages are actually classrooms that teach everything from art to craft, others are show cases that help the crafts persons to sell their creations to a discerning market. At the heart of this picturesque crafts village, is an amphi theatre that has staged performances ranging from classical music concerts to flute rectals, Bharata Natyam to Bhangra and Perini to contemporary English plays.
Prakriti Raga - Living Rock Gallery
This newest addition will embellish the crafts from March, 2000. It is a LIVING ROCK GALLERY that brings to the fore the Artist in nature. This unique genre of Sculpture developed by Subrata Basu of Prakriti Bhavan, Santiniketan, unleases the beauty of living rocks, which are the frozen legends in Nature's manifestations. Here the Sculptor explores the magnificence of the rocks with no interference but a lot of interaction with Nature
A Unique Crafts Festival
What Shilparamam has become internationally famous for is the Annual Crafts Festival that is being organised in the first two weeks of March every year since 1995. During these Festivals, craftspersons from across the country come here to display their exclusive creations. Here buyers come and pick up objects d' art directly from the makers with out having to deal with middlemen. In the past six years, the Arts and Crafts Festival elicited tremendous response. While the first such Arts and Crafts festival attracted people in tens of thousands the festival now attracts hundreds of thousands of people every day. Crafts people from all over the country sell their creations for crores. In 1999, 13 National Merit Certificate Holders and 16 State Award winners took part.
The Festivals
At Shilparamam every season brings with it the mood of festivity and an occasion to celebrate. Here Indian festivals are celebrated in the most traditional way and unique festivals bring together talents from the world over. The festivals of Shilparamam include The International Kite Festival, Navarathri, South India Festival, Sankranthi Sandadi, Ugadi, Annual Crafts Festival, Janmashtami etc.
The HYDERABAD HAAT, the crafts fair is organised once a month bringing exclusive crafts from different States of the Country. And through the recently started GRIHA BHOJAN Centre, the most diverse of traditional native delicacies of various cultures are cooked and served by women in the most traditional way.
Shilparamam
A village to showcase Arts. A centrestage of cultures. A melting pot of Traditions. An endeavor to preserve our dying arts forms. This precisely sums up Shilparamam.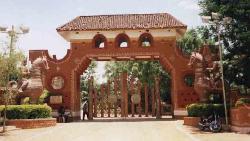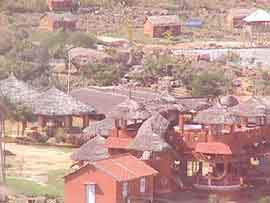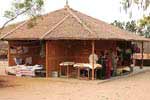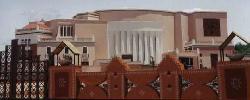 Hyderabad Places
Monuments
SiteSeeing
Parks
Worshipping Places
Recreation Places